RoadHouse Reels Casino No Deposit Bonus Codes
RoadHouse Reels Casino offers a somewhat limited collection of promotions to its fans that can provide rewarding free cash and free spin prizes. Players who are aiming for the site's no-deposit offers need to thoroughly study the terms and conditions section of the site, especially the paragraphs concerning free bonuses. Players can activate all of the site's promotions through bonus codes, and the main menu features a section specifically designed for redeeming bonus codes.
Taking Full of Advantage of RoadHouse Reels' No Deposit Promotions
The casino's Support Staff can send a personalized offer to an individual member, and in many cases, that promotion is a free one. When such a bonus is available and not a match bonus, the maximum amount that can be withdrawn is 150 dollars. The same limit is valid for all withdrawals that are associated with free promotions. Whether it is of the free spin or the free cash type, every single no-deposit promotion is attached to a 60 times playthrough requirement.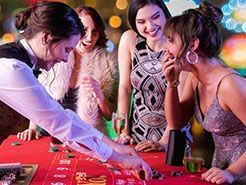 Members of the casino can't consecutively activate two free bonuses; an installment that is at least 25 dollars must be made for players to use the second no-deposit offer. Unfortunately, there are many countries, the residents of which won't profit from the site's free promotions. Some of those are Brazil, Croatia, Greece, Hungary, Ireland, Japan, Poland, and Spain. Blackjack players who have just signed up with GrandPrive.com. Casinos will have the privilege of using an exclusive 20-dollar free welcome offer.
RoadHouse Reel's Generous Promotion and Their Bonus Codes
Currently, the Don't Howl at the Moon promotion is fully dedicated to the Spirit of the Wild game. The bonus awards players with free spins in exchange for a deposited amount. Twenty-five dollars grant 60 free spins (60SPIRITS). A 37-dollar installment brings 90 free spins (90SPIRITS). Depositing 55 dollars initially provides players with a 99 percent match bonus up to 250 dollars (99SPIRITS), which will be then followed by 20 free spins (20WILDS). Players can then proceed to acquire 180 free spins after depositing 82 dollars (180SPIRITS). A 95-dollar installment brings 210 free spins (210SPIRITS).

A 100-dollar deposit coupled with the code 150SPIRITS will grant a 150 percent match bonus that can pay up to 500 dollars. A follow-up offer is 30 free spins (30SPIRITS). The biggest free spin prize is 270 (270SPIRITS), but players need to deposit 120 dollars to use it. Through the "It's a Happy Hour Bonanza!" promotion, players can acquire 50 free spins every daily 6 and 10 AM. Additionally, if a RoadHouse Reel casino members redeem this offer seven days in a row, their name will take part in a lucky draw, which could lead to even more free prizes.
RoadHouse Reels Casino News